Sometimes there is talent in the world that doesn't always get the recognition it deserves. Fortunately, in the age of blogging and social media, the power to elevate that talent now lies with us and to a lesser extent with the corporations who will continue to flex their financial muscles to force exposure and airplay. It might only be a matter of time before everyone has heard of Pacho, but by writing this CD review I'd like to get there first.
In an increasingly image-driven industry, it is not a surprise that major classical record companies are looking for artists who can deliver the whole package. Sex sells: if that means tossing your hair around mid-performance to set a few pace-makers racing and that in turn generates a few more sales, then from a commercialist point of view then why not?
"Who is the best trumpet player in the world?"… is a question many music enthusiasts would usually follow with a string of names most often played on classical radio stations, who coincidentally also often have long blonde hair… but that's for another blog rant.
My own answer to that is a little more complex than '"who is Classic FM's most played Trumpeter?…"  which is an unimaginative but apparently common way of deciding that title. I have no criticism for the work of artists who may fit in to that category, only the perception that because they are getting more commercial airplay means that they are somehow more accomplished musicians.
My favourite trumpeter would vary depending on what context they were in, e.g. symphonic, commercial lead, period baroque, classical soloist, jazz soloist, ensemble leader… etc. Having a favourite pair of socks is no good if they are only made of thin cotton and there is six inches of snow outside. It might be a lovely pattern, but it won't keep your feet warm. Similarly, Miles Davis was probably never going to delight us with his rendition of the Telemann concerto. (Equally, no-one sets a mood better than Miles).
As far as classical trumpet soloists are concerned, I have recently discovered a new benchmark. This time last year I was fortunate to stumble across this particular artist at a masterclass he was giving at the Royal Academy of Music, London. Very few of us that attended had any prior knowledge of our visitor. The following night, a majority of us followed down to the Venezuelan Embassy to make a desperate attempt to blag our way into a sold-out recital he was giving at the Bolivar Hall there.
Pacho Flores is a now thirty-something year old product of El Sistema, the revolutionary music project in Venezuela that has gone beyond being a majorly successful cultural project and is now producing some of the world's greatest fresh-faced musical talent. He was in London for a few performance dates, and also to promote his recently recorded debut solo album. He has all the requirements of a contemporary solo performer: Undeniably accomplished as a musician, charismatic, passionate, creative, and most importantly looks good in a suit and is appropriately photogenic.  Deutsche Grammophon won the race for his signature, and 12 months on I finally have his debut solo CD 'Cantar'  on repeat.
This disc selects a more limited palette than I heard in his recital a year ago. The focus here is on the Baroque, featuring three full concerto recordings, three interludes of Bach, and a selection of other relevant gems.
On first hearing through it strikes me that there is such variety and contrast between the pieces, which is surprising considering the selection. Both the programming and production here are very carefully balanced to achieve this, and save us from what otherwise might have been a monotonous listen.
It seems odd to open with Handel's 'The Arrival of the Queen of Sheba' when the same composer provided some of the very first great orchestral trumpet repertoire. However, it is exquisitely played. Here Flores duets with himself playing the original Oboe parts, and the Konzerthausorchester Berlin are also magnificent under the direction of Christian Vasquez.
The first major work of the disc is Neruda's 'Trumpet Concerto in E flat'. This has been a favourite of trumpet exam entrants everywhere since exams were invented, but hardly (if ever) played on the correct instrument. Here, finally, we have a recording by a virtuoso soloist playing the Corno da Caccia. Like every other instrument on this disc, it has been made for him by Stomvi.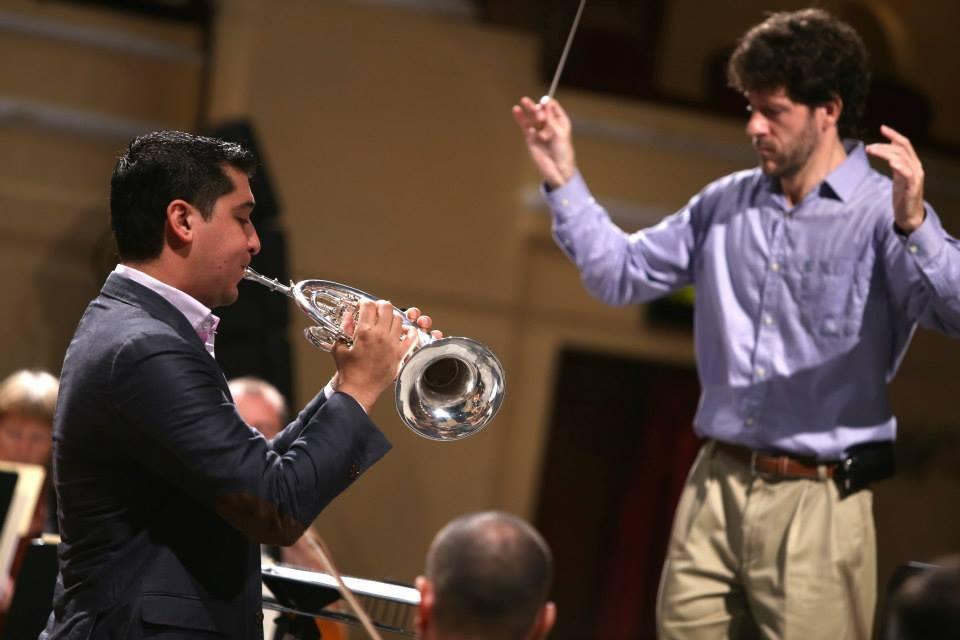 This concerto is a personal favourite, and one I've studied and performed. This recording is easily the most impressive I've heard. Not only is it a more accurate presentation of the sound, the performance is brilliant in interpretation. Beautiful themes are elegantly decorated on their reprise without being over-garnished. Flores is a master craftsman at work.
The first Bach interlude is a solemn affair – 'Nun komm, der Heiden Heiland'. Flores' trumpet floats effortlessly over the clockwork organ accompaniment.
Our first hearing of the Piccolo trumpet comes in an adaptation of Cimarosa's 'Oboe Concerto'. Trumpet writing of this era doesn't offer the vehicle for virtuosity or expressiveness that other instrumental repertoire could at this time, and Flores wouldn't be the first to borrow from the Baroque Oboe repertoire to showcase that. The results are dazzling, with some of the most brilliant playing on the disc.
For Bach's 'Agnus Dei' the flugelhorn is deployed to great effect, creating a beautiful melancholy interlude with a tone that refreshes the pallette like a well balanced sorbet in an eleven course meal.
The only contemporary offering on the disc is from Ephraím Oscher, entitled 'Soledad' (Solitude). The intrusion into this Baroque feast is welcome in this case. If this disc were like a nest of eggs, this track would be the parakeet chick that fell into a nest of owls, and despite its exotic origin grew into a wise old bird anyway. At first you don't notice the differences: Similar instrumentation and diatonic language disguises it's modernity, whilst allowing for a melodic platform for Flores to release his lyrical qualities without the formal straightjacket of Baroque convention. It develops to be more daring and decorative to a point at which you worry that he has broken all of the rules, until you remember this was written long after Schoenberg and Stravinsky and realise this is a welcome new addition to the catalogue of original trumpet repertoire.
The third Bach interlude is an imaginative arrangement of 'Prelude no 12 in F minor', from the Well Tempered Clavier. Oscher has also provided these extra extensions to the repertoire, orchestrating with such skill as if they were never written for anything else.
Daquin's 'Le Coucou' is again a vehicle for dazzling virtuosity and a demonstration of perfect airflow, articulation and phrasing. Following on from this a dip into a Renaissance sounding 'Tarantella II' from De Murcia laced with Guitars and Tambourines, equally delightful and uplifting.
Tartini's 'Concerto for Trumpet' is the final substantial work on offer. Again, the interpretation is as elegant as it is brilliant. There is a touch of Marsalis in the swagger with which these performances are delivered, but with all the refined qualities of Hardenberger. Flores' complete command over instrumental technique is unlike any other I've heard, allowing total freedom for expression. Better still, it is never used simply because he can.
The 'bonus track' is a deviation from the Baroque theme – it seems customary for Flores to share something from home with us as an encore and here it is an orchestration of Alvaro Paiva Bimbo's 'Soy tu ayer'. Originally a song with guitar, here it is beautifully adapted to wave a cheery farewell from Flores' floated flugel lines.
With this debut CD Flores has shown that his name will takes its place among the star names of Classical Trumpet Soloists with the potential to outshine them all. The disc is dedicated to Maurice André, and this is a piece of work I imagine he might have been proud to have inspired. However, by adopting a focus on the Baroque, it gives us only a narrow selection of what Flores is capable of. This is no bad thing, especially for Deutsche Grammaphone who have left me eagerly anticipating the release of another disc!
With the Baroque box ticked, perhaps next a focus on the Romantic or Contemporary repertoire? Or are we destined for a chronological progression into Classical with some landmark interpretations of Haydn and Hummel? I understand Flores is also a fine improviser, not at all unfamiliar with the Popular music styles of his native South America. With all that in mind, I hope we can expect this to be the first in a series of exquisite volumes of work which showcase an all round remarkable talent. I for one will be collecting every disc and taking delight in watching his career flourish.
But will he be 'the best in the world'?…  Maybe. Just don't ask me.